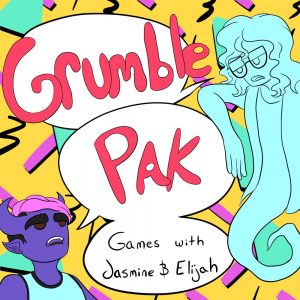 UPDATE: the Grumble Pak page has been updated with the links to all of the podcast distributors that host us.
Hello! Thanks to these quarantined times, I've gotten into podcasting! Join my friend/roommate Elijah Wennstrom and I for Grumble Pak, a podcast where we talk about various video game topics and old/weird games that we've both played. Our first episode launches today on the topic of, wouldn't you know it, the Rumble Pak (and other weird video game peripherals). New episodes will post every other Tuesday.
You can listen to Episode 1 – Peripherals on Spotify now.
You can follow our Twitter @GrumblePakPod.